Heron Owners Gallery - Ed Braley
Please click on the pictures below for a larger image.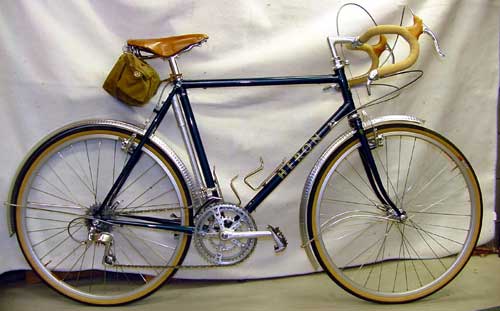 Here are the component overviews for the two Heron Touring bikes. These are both 53cm frames with the 26inch wheel format. I was looking to build a road-going 26inch wheeled machine, and had tried this with a couple of mtb frames, but the geometries were all wrong. The 53cm Heron Tourer was unique in that I allowed me to try a couple of things that I wanted to do; utilizethe widely available mtb wheel and tire combinations for road use, and build a French styled touring bike.
The red bike was recently built. As you know, this frame was acquired used and was in need of a new fork. I really like the new fork you've built for this frame; the crown is wider and easily accepts bigger tires and
wider fenders. And that Rockwell Red paint looks classic! After riding the blue bike, I wanted to try a compact double crank setup on a Heron Touring frame, and I had some different drivetrain components to achieve that end. The idea was to closely match the granny ring and middle ring ratios on the blue bike with a simpler two ring configuration. There are new compact mtb triple cranks available that can be equipped with two rings to provide this type of gearing, but I had an older model crankset which would do that for me
also.

I was looking to build a French style randonneuse bike here, and I wanted the racks and bags to match. I'm delighted with the outcome; the gearing feels perfect, the bags and rack work superbly, the fit is very comfortable and the look is just what I wanted.
Here's what's on the red bike:

53cm Heron Touring frame and fork with 26inch wheels
Tange-Seki G-Master headset
Campagnolo Super Record seatpost
Brooks B-17 Champion Special saddle
Nitto 11cm Technomic Deluxe stem
Nitto 44cm model 177 handlebar
Cinelli cork tape
Shimano cantilever brakeset; low profile rear, high profile front
SunTour Superbe brake levers
Sakae Apex touring crank 86mm bcd, 28/46 rings
Shimano XTR 8 speed cassette wheelset
11-28 cassette
Tioga City Slicker 26 x 1.5 tires
Shimano Ultegra 8 speed rear derailleur
Shimano Ultegra racing front derailleur
Shimano 8 speed Ultegra Downtube shifters
Shimano HG-91 chain
Berthoud stainless steel fenders
SunTour Sprint pedals with clips and straps.
Nitto M-12 front rack
Berthoud 2586 handlebar bag
Berthoud quick release upper bag mount and hardware modified to work with the Nitto stem
Berthoud saddle bag.

This bike proved to me that the compact wide ratio double crank drivetrain works very well. Most of the time I ride the bike in the 46 ring and make all the shifts in the rear. I use the granny for slow-going and hilly terrain. The position is a little more upright than the blue bike, and for casual rides with a bit of gear in the bags it's a very relaxing machine.

Next, I'd like to put some good lights on this bike to allow me to ride it at night and in long distance randonneuring events!

Thanks for all your help with these frames and components, I hope that the upcoming Heron Randonneuse that you're planning makes it possible for other people to enjoy this kind of bike!

<< Return to Owners Group homepage