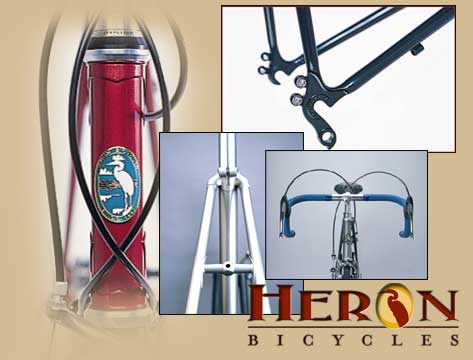 Heron Production to finally resume! We have built, ridden, and tested many prototypes over the past few years, and now have a final design for the New Heron Sportif. The first batch is just about ready to be built. We will have samples at the 10/22/16 Denver VeloSwap for inspection. This has been a long road, but the product is unique and well-tested, at this point. Built with NOS non-oversized Reynolds 531 tubing from England, fully lugged, silver-brazed, American-built. Uncompromising. Beautiful. Long-lasting. Classic. All-day comfortable, but in no way sluggish. Fender-friendly. Designed for a front load. Good for just about anything short of Expedition Touring. Recommended max. tire size of 700 x 33 w/o fenders, 30 mm with fenders (size 50 (only) will use 26-inch tires. We recommend the fabulous Compass 26 x 1.25-inch Extra Leger tires for that size Heron Sportif). Two colors are available: Candy Apple Red Metallic, and Dark Continental Blue metallic. In addition to the NOS 531 frame tubes, the fork blades are the Kaisei "Toei Special" that are a great balance of performance and comfort. Fork crowns are NOS Cinelli MC semi-sloping. Dropouts are Stainless Steel and vertical. Unpainted on the hub interfaces. Double eyelets on the rears, single on the fronts. Front rack mounts on the fork blades. Rear rackmounts on the seat stays. Two water bottle braze-on pairs. DT shifter braze-ons. TT brake cable housing braze-ons. Under-BB cable guide. Chain hanger braze-on. Pump pip on the back of the head tube on 54 cm. and larger sizes. Tail light mount on 56 cm. and larger sizes. (Sizes are 50, 52, 54, 56, 58, 60, 62, and 64 cm., center-to-top). Beautiful, sleek IC lugs with cutouts in the spoon areas. Classic and lightweight seat cluster design, reminiscent of 1980s Paramounts with the Henry James lugs.

Heron is under new ownership. It is now part of Bicycle Classics.
(Please excuse our temporary mess!)
Production of the Heron line of framesets is scheduled to resume soon. They will be built with non-oversized NOS Reynolds butted 531 tubing. Geometries are changing, and the frames will be optimized to more traditional designs.

Only one NOS Heron Road frame remains available. It is a Shippingsport Silver 50 cm. Road model, which requires 26-inch (or 650c) wheels. If you are interested in this final frame, please inquire at Bicycle Classics. Waterford will remain available for repairs, repaints, and warranty service for the old Herons. So, prior customers will not be left without support.

12/2/2014


The Concept of Heron
Handcrafted in the USA, Herons are lugged, silver-brazed frames that are as versatile as they are comfortable. While they may look traditional, make no mistake, they are designed for today's cyclists, with timeless design and understated elegance. Steel is real!
Comfort
You won't be comfortable on any bicycle unless your position is just right. With the Heron geometry, we optimize the saddle and handlebar positions. This not only feels better, it makes the drop portion of the bars more usable. Ride on the tops for fun rides around town. Ride on the hoods for long distance comfort. Ride on the drops for competitive club rides, races, or just battling a tough head wind. Get the most out of your handlebars!
Versatility
Optimized clearances, dropout eyelets, and lots of brazed-on fittings allow a relatively wide range of tires, and are fender-, rack-, and accessory-friendly. We can't find any downsides, yet this is what makes a Heron great for brevets, commuting, road racing, club rides, light touring, or just plain fun. It makes you wonder why more builders don't do this!
Construction
Herons are American-made handcrafted steel frames. There are far cheaper methods and locations to build frames, but we think that ours are still the best, and will create a product of lasting value. We use lugs because they look great and add an external reinforcement to strengthen joints. Herons are silver-brazed because it is gentler on the tubing. We chose to do this even though it is more expensive and more difficult to do.
While the methods used to craft these frames are quite traditional, Herons are unlike most of the lugged steel frames of years past. Our mix of non-oversized NOS butted Reynolds 531 and Kaisei tubing provides strength and light weight, and also offers that oh-so-wonderful non-oversized classic-steel-frame ride quality. Our lug design combines the style of older lugs with the precision of today's best investment castings. We strive to give you custom frame quality at a production frame price.